Wooden Sprockets
Cutting Wood Sprockets & Gears Using A Simple Jig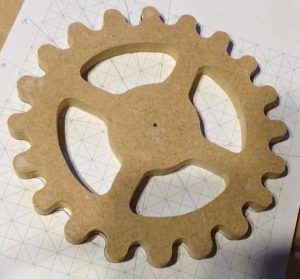 I needed to make sprockets as templates for some lost foam casting I had in mind and like a lot of people I came across Matthias Wandel's excellent Wood Gear Generator program. Matthias is the wood gears guru in my opinion and his program is easy and in part free. You can see it online on his website www.woodgears.ca/gear.
See the accompanying video here...
Unfortunately I needed sprockets and these are not part of the free version, but Matthias's download version does cope with these and is very reasonably priced. Sprockets are similar in appearence to gears but they work in conjunction with a chain rather than another gear. Think of a bicycle, where the pedals meet the chain. That's a sprocket.
The gear generator program allows the user to type in their required measurements and from this it produces a paper template. Matthias instructs us to cut out the template, glue it to a scrap of wood, drill out some holes, trim away the excess with a bandsaw then sand to finish. Now this is a great theory and I'm guessing it's worked well for him and thousands of others – but not for me. Whether I used a lot or a little amount of glue, I invariably found that the template would tear apart throughout the process, leaving me with no guidelines. More critically I found that despite using his gear program correctly, my paper templates were never very accurate. I found my circles weren't true so the measurements were off (whether this was my printer, the paper quality, the paper stretching with glue, etc, I'm not sure). As such I had a couple of unsuccessful builds that I certainly didn't want to use as templates.