Home made Adjustable Foam Cutter
How to make an adjustable, self-tensioning Hot Wire Foam cutter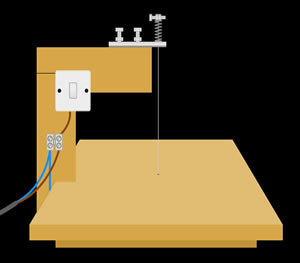 Cutting polystyrene foam is easy with a hot wire cutter. But the wire sags when it gets hot and it's hard to get accurate, straight and nicely jointed edges. To overcome this, I'll show you how to make an adjustable, self-tensioning, accurate and reliable hot-wire foam cutter.
See the accompanying video here...
Now hot wire foam cutters are ten-a-penny on YouTube and there's dozens of sites with their own versions. However I've got a couple of projects coming up where an accurate, reliable foam cutter will come in very handy, and these other vids don't seem to cover adjustability, I've decided to share my ideas. But in deference to the other videos, I don't want to cover the build in too much detail, but what follows will enable a complete novice to build one from scratch. It will also help someone like me, who has an existing cutter, get greater adjustability and accuracy from it.