Home Made WVO WMO Oil Burner
Home made waste vegetable oil burner for a home foundry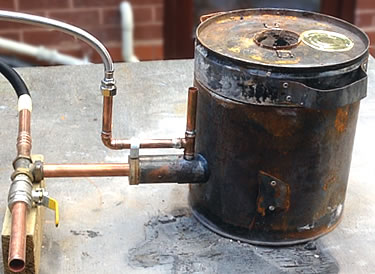 Not long after I discovered the joys of melting metals at home in my home made foundry, I began to grumble at the cost and mess associated with charcoal, my fuel of choice at the time. I had plenty of waste vegetable oil on hand which I was collecting locally for free and I imagined it must be possible to heat a foundry with this – after all I was running my car on it. See the accompanying video here...
(WVO stands for Waste Vegetable Oil - ordinary cooking oil which I personally used. WMO stands for Waste Motor Oil - something I've been reliably informed by subscribers also works well in this simple burner)
I looked at YouTube for inspiration and I did find examples of exactly that – people melting metal with waste veg oil or even waste motor oil. But the burners all had one thing in common – a compressor. I didn't have a compressor so I was somewhat disappointed. If you have one, then you'd probably be better looking elsewhere for inspiration, but if you don't... well, it occurred to me that maybe I didn't need one after all.