Making Continuous Tracks / Caterpillar Tracks
The Easy Way to make Caterpillar / Continuous / Tank Tracks at Home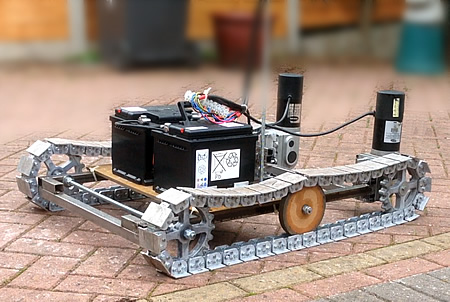 Caterpillar tracks - continuous track - dozer tracks - tank tracks - whatever you call it, I've always had a fascination with it; that incredible ability to go places other vehicles can't go - massive grip and minimal ground pressure thanks to the large surface area of the track itself.
See the accompanying video here...
When I decided to have a go at making a fairly large model track (about 3ft / 1meter approx.), I was disappointed at the complexity of some designs I found, way beyond the limitations of my basic tools. This meant I had to come up with another method - an easy way to make caterpillar tracks.

FREE PLANS - DOWNLOAD HERE
I've created some free plans to go along with this build. They will allow you to print a sprocket template, provide you with measurements and list the materials required. I've done my best but I'm no engineer...
These files are just Zipped PDFs. But you'll need to download, unzip and read (and print) using Adobe Acrobat Reader.
There's a choice of two - one showing Inches and one showing Millimetres, show choose your preference.
Donations -
"Never surpress a generous thought" - Camilia E Kamball
If you'd like to offer a donation (and help me fund a few new projects), then please click the donate button below. Payments are handled securely by PayPal. For more information on why I have this button, click here.
Inspiration
I believe in giving credit where it's due and my initial inspiration came from watching a video by Matthias Wandel on his excellent website. Have a look for yourself to see what I mean - woodgears.ca/tracked_vehicle
I loved Matthias' simple approach and even toyed with the idea of using wood myself. But I wanted something a little more robust so metal was my preference, though the idea of making all those complex joints terrified me. Steel would be incredibly resilient but hard to work, expensive and heavy, so I opted for aluminium.